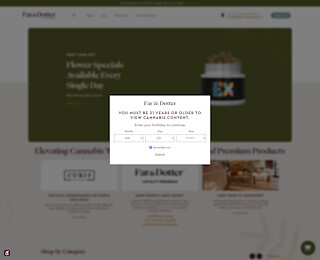 Imagine you're a first-time cannabis shopper, stepping into a marijuana dispensary for the very first time. The multitude of strains and products might seem daunting. The aromas of different cannabis varieties fill the air, and you're not sure where to begin. In this new world of cannabis, where do you start?
Now, imagine you're at Far & Dotter, a premier Timonium marijuana dispensary. As soon as you enter, you're welcomed by friendly, knowledgeable staff who guide you through your journey of cannabis discovery. Instead of feeling overwhelmed, you feel supported and empowered. This is the Far & Dotter difference.
Exploring Far & Dotter: A Haven for Cannabis Wellness in Timonium
At Far & Dotter, we're about more than just selling cannabis products; we're about fostering a community that values wellness, education, and a personalized approach to cannabis use. We strive to redefine the experience of visiting a marijuana dispensary, turning it from a mere transaction into a journey of discovery and wellness.
Our dispensary in Timonium, MD, boasts an impressive selection of premium cannabis products. But what sets us apart is our commitment to guiding our customers through the diverse world of cannabis. Our experienced and knowledgeable team is always on hand to answer your questions, provide recommendations, and ensure you feel confident in your choices.
Additionally, we place a strong emphasis on education. We believe that informed customers are empowered customers. That's why we regularly host workshops and events, covering a wide range of topics from understanding the differences between various cannabis strains to the potential health benefits of cannabis.
At Far & Dotter, we understand that every individual's cannabis journey is unique. That's why we strive to provide a personalized experience to each of our customers. Whether you're a seasoned cannabis user or a curious newcomer, our team is dedicated to helping you navigate your journey with confidence and ease.
Finally, we're committed to fostering a sense of community. Far & Dotter is not just a dispensary; it's a gathering place for individuals who share a common interest in cannabis and wellness. We regularly host social events, providing an opportunity for our customers to connect with each other and with the wider Timonium community.
Cannabis Varieties at Our Timonium Location: Indicas, Sativas, and Hybrids
At Far & Dotter, we pride ourselves on our extensive selection of high-quality cannabis products. We understand that the key to a satisfying cannabis experience lies in finding the right strain. That's why we offer a diverse range of Indicas, Sativas, and Hybrids to cater to the unique preferences and needs of our customers.
Indica strains are known for their relaxing and calming effects. They're often recommended for nighttime use or for those seeking help with sleep or relaxation. At our Timonium location, you'll find a range of premium Indica strains, each with its own unique profile of aromas and effects.
Next, we have our Sativa strains. Known for their energizing and uplifting effects, Sativas are perfect for daytime use or when you need a boost of creativity or focus. Our Sativa selection includes a variety of potent and flavorful strains, all cultivated with care and precision to ensure maximum quality.
Finally, for those seeking a balanced experience, we offer a range of Hybrid strains. Hybrids are bred to combine the best of both Indica and Sativa strains, resulting in a versatile cannabis experience that can be tailored to a variety of needs and preferences.
Whether you're looking for the relaxing effects of an Indica, the energizing boost of a Sativa, or the balanced versatility of a Hybrid, our team is here to guide you through our selection and help you find the perfect strain for your needs.
Enhancing Your Cannabis Experience: Our Wellness Services
But at Far & Dotter, we go beyond offering premium cannabis products. Recognizing the integral role that wellness plays in a fulfilling cannabis experience, we also offer a variety of wellness services designed to complement and enhance your cannabis journey.
Our wellness services range from therapeutic massages and relaxation therapies to wellness consultations and holistic nutrition advice. These services are provided by trained wellness professionals who are skilled in a variety of modalities. They are designed to promote overall wellness, helping you to relax, rejuvenate, and achieve a state of balanced health.
In addition to our in-house services, we also host regular wellness workshops and classes. These events provide an opportunity to deepen your understanding of wellness and learn new skills and strategies for maintaining balanced health.
At Far & Dotter, we believe that cannabis and wellness go hand in hand. By offering these additional services, we aim to provide a comprehensive approach to cannabis wellness, enhancing your experience beyond what you might expect from a traditional marijuana dispensary.
Far & Dotter Mobile App: Your Personal Cannabis Shopping Assistant
In our commitment to delivering a personalized and seamless shopping experience, we've developed the Far & Dotter mobile app. The app serves as your personal cannabis shopping assistant, allowing you to browse our product range, place orders, and access personalized product recommendations from the comfort of your own home.
The Far & Dotter app also keeps you informed about the latest happenings at our dispensary. Receive notifications about upcoming events, special promotions, and new product arrivals. The app even allows you to join our loyalty program, so you can start earning rewards for your purchases.
In essence, the Far & Dotter app is designed to bring the Timonium marijuana dispensary experience to your fingertips, making your journey with cannabis more convenient and personalized than ever before.
Experience the Far & Dotter Difference
In the ever-evolving world of cannabis, Far & Dotter stands out as a premier Timonium marijuana dispensary. Our commitment to quality, education, and personalized service, coupled with our broad product range and wellness services, sets us apart from the rest.
At Far & Dotter, we're not just about selling cannabis products; we're about helping our customers discover their unique cannabis journey. We invite you to join us, explore our selection, and experience the Far & Dotter difference for yourself.
So why wait? Visit us today at Far & Dotter, your destination for cannabis wellness in Timonium, and embark on your journey to wellness and discovery. We look forward to serving you.
Far & Dotter
+1 443-484-8600
2060A York Road
Timonium MD 21093 US