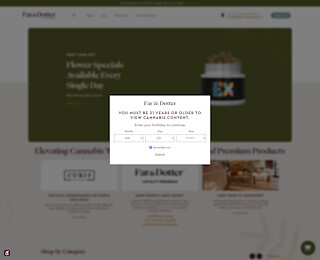 If there's one prediction we feel confident making, it's this: the future of cannabis is bright, and it's happening now. In the coming years, we foresee a world where cannabis wellness is recognized, appreciated, and accessed widely, leading to enhanced wellbeing and a profound shift in healthcare approaches.
As a committed participant in this promising future, Far & Dotter, a standout Lutherville, MD dispensary, is not just ready but eager and well-equipped to lead the charge. We are a family-owned business with a deep-rooted passion for cannabis wellness, born out of our own transformative experiences with this potent plant.
Our journey has instilled in us an unshakeable belief in the potential of cannabis as a conduit to improved health, greater self-understanding, and a more vibrant life. This belief propels our work every day, inspiring us to bring the highest quality cannabis products, services, and educational resources to our community.
The Far & Dotter Difference: Quality and Guidance
At Far & Dotter, our philosophy is grounded in a deep commitment to quality and guidance. We believe in offering best-in-class cannabis products, backed by professional, empathetic, and insightful guidance. As a premier Lutherville MD dispensary, we've made it our mission to set a gold standard in cannabis wellness.
Our commitment to quality is not just a buzzword; it's a promise that resonates in everything we do. We source and curate a wide range of premium cannabis products from the most reputable growers and manufacturers, ensuring that each item that makes it to our shelves is top-notch. Our selections offer the perfect balance of potency and purity, catering to the varied tastes and preferences of our clientele.
Quality is nothing without guidance, and that's why we've established a team of dedicated wellness experts to assist our clients. Our pharmacists and wellness consultants are extensively trained in the nuances of cannabis. They take the time to understand each client's needs and lifestyle, offering personalized recommendations that truly make a difference.
We firmly believe that knowledge empowers, which is why we also hold regular educational events to keep our community informed about the latest developments in cannabis wellness. From understanding different strains to navigating Maryland's cannabis laws, we ensure our clients are well-informed and comfortable in their journey with us.
Ultimately, what sets Far & Dotter apart is our unyielding commitment to our clients. We see ourselves not merely as a dispensary but as a partner in your wellness journey. Our goal is to create a safe, inclusive, and enlightening space where you can discover the incredible potential of cannabis wellness.
Your Cannabis Journey: Products Available at Our Lutherville Dispensary
At Far & Dotter, we offer a wide range of cannabis products to cater to diverse needs and preferences. Among our most popular offerings are our meticulously cultivated Flowers. With strains tailored for relaxation, creativity, energy, and more, our flowers cater to a wide range of experiences and preferences.
If you prefer a smoke-free option, our Vaporizers are the perfect choice. Available in an assortment of flavors and potency levels, our vaporizers deliver a smooth and controlled experience that many of our clients love.
For those with a sweet tooth, our Edibles range offers a delightful way to enjoy the benefits of cannabis. We offer a diverse selection, from gummies to chocolates, each carefully dosed to provide a predictable and enjoyable cannabis experience.
Elevate Your Wellness: Our Spa and Pharmacy
Beyond cannabis products, Far & Dotter is committed to elevating your wellness through our unique spa and pharmacy services. Our spa offers a range of treatments designed to enhance relaxation and promote wellbeing. From soothing massages to invigorating facials, every service is designed to pamper you while promoting holistic wellness.
Our on-site pharmacy, on the other hand, offers pharmacist-led consultations and a selection of premium wellness products. Whether you need advice on dosage, product selection, or managing potential side-effects, our pharmacy team is ready to guide you.
Join Us: Our Regular Events and Promotions
At Far & Dotter, we believe that community engagement and education are key to promoting cannabis wellness. This is why we regularly host events and promotions to engage, educate, and give back to our community. Our events range from educational workshops to community outreach programs, each designed to foster a sense of belonging and knowledge among our clients.
We also offer exclusive promotions, from product discounts to loyalty rewards, making your cannabis journey with us not only enlightening but also rewarding in a tangible way.
The Power of Community: Our Partnership with PharmKent
Community is at the heart of everything we do at Far & Dotter, and that extends to our partnerships as well. We are proud to have a close working relationship with PharmKent, a local Maryland grower renowned for their top-quality cannabis products.
This partnership allows us to ensure that the products you find at our dispensary are not only top-tier but also locally sourced, promoting both quality and local economy.
Experience the Far & Dotter App: Cannabis Shopping Made Easier
At Far & Dotter, we believe that your journey to wellness should be as seamless as possible. That's why we developed the Far & Dotter app, a digital companion designed to enhance your shopping experience. With our app, you can browse our extensive catalog of premium cannabis products at your leisure, from the comfort of your home. It's as simple as a few taps on your screen, transforming the way you engage with cannabis wellness.
Our app is more than just a digital storefront. It's packed with features that aim to educate, guide, and inspire. With personalized recommendations based on your usage patterns, preferences, and previous purchases, it becomes easier to find the products that best suit your needs.
Visit Our Lutherville MD Dispensary Today
Far & Dotter is more than just a dispensary; we're your partner in wellness, offering quality products, guidance, and a community that empowers you. We invite you to visit us in Lutherville, MD, and explore the world of cannabis wellness firsthand.
Embark on your journey with us, engage with our community, benefit from our partnerships, and discover a new way to wellbeing. At Far & Dotter, your journey towards wellness is just a visit away.
Far & Dotter
+1 443-484-8600
2060A York Road
Timonium MD 21093 US