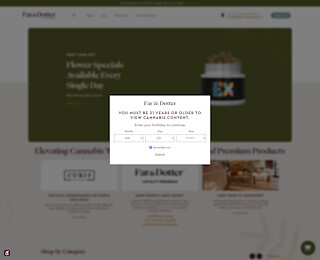 As founders of Far & Dotter, our journey with cannabis began much like yours – steeped in curiosity and a yearning for wellness alternatives. We recall our first time stepping foot into a recreational dispensary, the overwhelming variety of strains, and the empowering feeling that came with educating ourselves about the benefits of this ancient plant. Those initial experiences played a crucial role in what Far & Dotter stands for today.
Our personal journey with cannabis has evolved into a commitment to bring a unique, engaging, and informative cannabis experience to you at Far & Dotter. As a recreational dispensary nestled in Timonium, MD, we strive to provide more than just products; we offer a space for discovery, learning, and connection within a community of like-minded individuals.
Far & Dotter's Promise: Cultivating Wellness & Community
At Far & Dotter, we've always believed that cannabis extends far beyond recreation. We see it as an opportunity for wellness, personal growth, and community connection. Our mission, from the start, has been to curate a safe and inviting space where the uninitiated and the experienced can equally find their comfort zone.
Our commitment to quality is uncompromising. We partner with trusted growers and suppliers to bring you an array of premium cannabis products. We are meticulous in our selection, ensuring that every product we offer meets the highest standards of potency, purity, and ethical cultivation.
Just as we focus on product quality, we also emphasize customer experience. Our knowledgeable and passionate team is always ready to guide you, whether you're a seasoned user or trying cannabis for the first time. We believe in making your journey with cannabis a personalized one, and our team is here to help you navigate our offerings to find the products that best fit your needs and preferences.
In addition to our commitment to quality and customer service, we firmly believe in the power of education. We host regular workshops and events focused on educating our community about various aspects of cannabis – from understanding different strains to learning about its numerous health benefits.
Finally, we understand that the world of cannabis is about more than just the plant itself; it's about the community that grows around it. At Far & Dotter, we strive to foster a sense of community among our customers. We regularly organize events and socials to bring our community together, strengthening bonds over shared experiences and interests.
In essence, Far & Dotter is more than just a recreational dispensary; it's a hub for wellness, education, and community in the heart of Timonium, MD.
Discover Your Perfect Strain: A Guide to Our Cannabis Selection
One of the things that set Far & Dotter apart is our extensive range of cannabis products. We take pride in offering a diverse selection of strains, each with its unique properties, to cater to the varied preferences and needs of our clientele.
From relaxing Indicas to invigorating Sativas and balanced Hybrids, our selection has something for everyone. Our Indica strains, known for their calming and sedative effects, are perfect for those looking for relaxation or help with sleep. On the other hand, our Sativas, known for their uplifting and energizing effects, are ideal for those seeking a boost of creativity or a mood uplift. Meanwhile, our hybrid strains offer the best of both worlds, making them a popular choice among many of our customers.
We also offer a variety of cannabis-infused edibles, from gummies and chocolates to beverages and baked goods. These are perfect for those who prefer not to smoke or are looking for a more discreet way to enjoy cannabis. Our knowledgeable team can guide you on the appropriate dosage to ensure a safe and enjoyable experience.
For those seeking targeted relief, our selection of topicals – including creams, balms, and lotions – could offer a solution. Infused with cannabis and other beneficial ingredients, these products are designed to be applied directly to the skin for localized relief of discomfort.
Lastly, we offer a range of CBD products for those seeking the therapeutic benefits of cannabis without the psychoactive effects. From CBD oils and tinctures to CBD-infused bath products, these products have become increasingly popular among our customers for their potential wellness benefits.
Navigating the world of cannabis can be overwhelming, especially with so many options available. But don't worry, our team is always on hand to guide you through our product range and help you find the perfect strain or product to suit your needs and preferences.
Not Just Cannabis: Our Holistic Pharmacy and Spa Services
At Far & Dotter, we believe in a holistic approach to wellness. That's why, in addition to our recreational dispensary, we also offer a range of other wellness services, including a fully-stocked holistic pharmacy and spa services.
Our holistic pharmacy offers a selection of natural remedies and supplements that complement our cannabis offerings. We stock a variety of products, from essential oils and herbal supplements to natural skincare and wellness products. Our aim is to offer a comprehensive approach to wellness that incorporates both traditional and alternative remedies.
But we don't stop at products; we also offer a range of spa services designed to promote relaxation and wellbeing. From therapeutic massages and aromatherapy to wellness consultations, our spa services offer a sanctuary of tranquility within our dispensary.
Our spa practitioners are trained in a variety of techniques and modalities, and can provide personalized treatments based on your individual needs and preferences. Whether you're looking to relieve tension, promote relaxation, or simply treat yourself to some well-deserved pampering, our spa services provide a tranquil retreat from the hustle and bustle of daily life.
In addition to our in-house services, we also host regular wellness workshops and classes, from yoga and meditation sessions to wellness coaching and nutritional consultations. These events provide an opportunity to learn more about holistic wellness and connect with others in our community.
Stay Connected: The Far & Dotter App
Our app offers a host of features to make your Far & Dotter experience as seamless as possible. From browsing our product range and placing orders for pickup to accessing personalized product recommendations based on your preferences, our app puts everything you need right at your fingertips.
In addition to shopping features, our app also keeps you up-to-date with the latest happenings at Far & Dotter. Receive notifications about upcoming events, special promotions, and new product arrivals. Plus, with our app, you can also join our loyalty program and start earning rewards for your purchases.
The Far & Dotter app is more than just a convenience; it's a tool that allows us to stay connected with you, our valued customer. So, whether you're at home, on the go, or even within our store, our app ensures that Far & Dotter is always just a tap away.
Your Journey Begins Here
We believe that everyone's journey with cannabis is unique, and at Far & Dotter, we're here to guide you every step of the way. We invite you to visit our Timonium location, explore our diverse product selection, experience our spa services, or join us at an event. No matter what your needs or interests, we're committed to helping you navigate your cannabis journey with confidence and ease.
Your journey begins here, at Far & Dotter, where we offer more than just a recreational dispensary in Timonium – we offer a gateway to wellness, education, and community. Download our app or visit us in-store to start your Far & Dotter journey today. We can't wait to welcome you.
Far & Dotter
+1 443-484-8600
2060A York Road
Timonium MD 21093 US