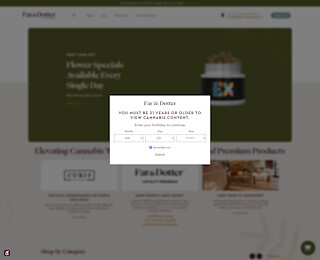 Have you ever wondered what sets a great cannabis dispensary apart from the rest? As the cannabis market continues to flourish, it becomes crucial to find a dispensary that not only offers high-quality products but also focuses on the consumer's needs.
Welcome to Far & Dotter, your trusted dispensary in Towson, Maryland. We're more than just a dispensary – we're your wellness partner, ready to guide you on your journey to optimal health and well-being.
The Benefits of Choosing the Right Dispensary
Quality and Variety of Products:

At Far & Dotter, we believe in offering nothing but the best. Our product range, curated from Curio Wellness, boasts the finest cannabis products, meticulously grown and crafted with consumer wellness in mind. Whether you're after the therapeutic benefits of CBD or the more psychoactive effects of THC, you'll find a product that suits your needs in our extensive lineup.

Customer Service and Education:

We understand that the world of cannabis can be overwhelming for both newcomers and seasoned users alike. This is why we place a heavy emphasis on education. Our knowledgeable staff are always ready to assist you, providing guidance and answers to any questions you might have. We're here to help you make informed choices about your wellness.

Safe and Compliant Environment:

Safety and compliance are critical in the cannabis industry. Far & Dotter operates under strict adherence to Maryland's medical cannabis laws and regulations. From cultivation to distribution, every step is monitored and regulated to ensure the safety and integrity of our products.

Community Engagement and Outreach:

Far & Dotter is not just a dispensary, but a valuable member of the Towson community. We actively participate in community events, provide wellness education, and support local businesses. We believe in contributing to the communities we serve, making a positive impact wherever we can.

Accessibility and Convenience:

Far & Dotter's commitment to accessibility is seen in our efforts to make shopping easy and convenient. Our dispensary is designed with the customer in mind, and we even have our own app, making shopping with us a breeze. We offer a screen-reader mode on our website and welcome feedback on any accessibility issues.
Types of Products You'll Find in Our Towson Dispensary
Flower: We stock a wide range of Curio Wellness flower products, available every day of the week. With strains ranging from sativas for daytime use to indicas for relaxation and hybrids for a balanced experience, there's something for every preference.
Edibles: For those who prefer a smoke-free method of consumption, our edible selection is sure to impress. With careful dosing and a variety of flavors, edibles provide a longer-lasting, full-body experience.
Concentrates: For experienced users seeking a more potent product, our concentrates offer the highest purity and potency. These are available in various forms, including shatter, wax, and oil, each delivering a unique and intense experience.
How to Save Money at the Dispensary
Not only do we have our popular 'Flower Power' Mondays, but we also offer an assortment of daily deals and specials on a variety of our products. Keeping an eye on our Deals section can ensure that you're always getting the best value for your money. Additionally, our mobile app offers exclusive deals and promotions to its users. It's available for download on the App Store and is a must-have for anyone looking to stay updated on our best deals.
We also value our loyal customers, which is why we have a rewards program in place. Regular shoppers can collect points on each purchase, which can be redeemed for discounts on future orders. We believe in rewarding those who choose to embark on their wellness journey with us, and this program is just one of the many ways we show our appreciation.
Can anyone purchase cannabis in Maryland?
In Maryland, both medical and recreational cannabis are available for purchase. However, it's essential to note that each has its own set of regulations. For medical cannabis, one must have a valid medical cannabis card issued by the state. On the other hand, recreational users must be 21 years or older to purchase from dispensaries such as Far & Dotter.
What documents do I need to bring to a dispensary?
When visiting a dispensary, always bring a valid government-issued ID to confirm your age. If you're a medical patient, don't forget your Maryland medical cannabis card. For Far & Dotter, you can save some time by registering with us online before your visit, allowing for a smoother and quicker experience when you come to our Towson location.
How much cannabis can I purchase at once?
The quantity of cannabis you can purchase at once depends on the type of consumer you are (medical or recreational) and the specific regulations set by the state of Maryland. We at Far & Dotter adhere strictly to these regulations to ensure a safe and legal shopping experience for all our customers.
Can I grow my own cannabis in Maryland?
As of our knowledge cutoff in September 2021, Maryland law does not permit the home cultivation of cannabis for either medical or recreational use. It's always advised to stay updated on local laws as they may change.
Can I use my out-of-state medical cannabis card in Maryland?
While some states have reciprocity laws allowing out-of-state medical cannabis cards, it's essential to verify current Maryland regulations. The team at Far & Dotter is always ready to provide guidance and answer any questions to ensure your shopping experience is legal and hassle-free.
Why Us?
Beyond our dispensary, Far & Dotter stands as a beacon of wellness in the community. Our holistic pharmacy offers a range of professional-grade vitamins and herbal supplements. Our top wellness therapists provide acupuncture, massage, and aesthetic services in our on-site spa.
We are more than a cannabis dispensary; we are your comprehensive source for achieving and maintaining optimal health. Whether you're exploring cannabis for the first time or you're a seasoned connoisseur, we welcome you to experience the whole-person wellness approach at Far & Dotter.
Conclusion
Choosing the right dispensary goes beyond finding a place to buy cannabis. It's about finding a partner in your wellness journey. At Far & Dotter, we're committed to providing quality products, excellent customer service, and a community-centered approach. So why not start your cannabis wellness journey with us?
Download our app today, and discover the Far & Dotter difference and see why Far & Dotter is a top-rated dispensary in Towson MD.
Far & Dotter
+1 443-484-8600
2060A York Road
Timonium MD 21093 US