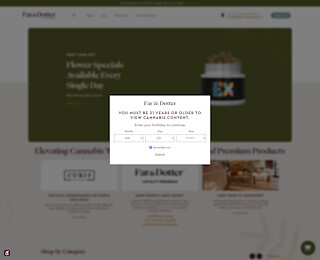 The world of cannabis is blossoming like never before. In recent years, more and more states have legalized marijuana for medical and recreational use, with Maryland being no exception. As a response to this exciting evolution, we at Far & Dotter have committed ourselves to offer an unparalleled selection and unique experience for recreational cannabis users in our state.
At Far & Dotter, we strive to transform the traditional dispensary model. Instead of a mere transactional place, we envision our dispensaries as centers for wellness, knowledge, and community. And it's this commitment to the entire cannabis journey, not just the end product, that sets us apart.
Our recreational cannabis selection is hand-picked to provide our customers with the best that Maryland's growers have to offer. From high-quality flower strains to edibles, vaporizers, and concentrates, we meticulously curate our products to cater to everyone, from the curious newcomer to the experienced user.
Beyond Medical: Far & Dotter's Recreational Cannabis Offerings
Cannabis, in its many forms, is a multifaceted plant. At Far & Dotter, we offer a wide variety of flower strains, each with their unique aroma, flavor, and effects. Whether you are looking for a product that invigorates and energizes, or something that relaxes and calms, you'll find it in our selection. And for those seeking a more curated cannabis experience, our 'Everyday' and 'Exclusive' Curio flowers provide you with the best Maryland has to offer.
For those who prefer a smoke-free experience, our range of edibles is an excellent choice. With their controlled dosages and an array of delectable flavors, our edibles make the consumption of cannabis a delightful culinary experience. Whether you prefer gummies, chocolates, or cookies, there's an option for every palate.
But it's not just about flowers and edibles. Our selection of vaporizers and concentrates offers a more potent and streamlined cannabis experience. These products are perfect for those who seek an intense and swift onset of effects. And of course, every product in our dispensary is rigorously tested and vetted to ensure its quality and safety.
Elevating the Recreational Experience: Our Events and Promotions
At Far & Dotter, we're all about creating an engaging and enriching experience for our customers. That's why we've crafted a variety of events and promotions to elevate your recreational cannabis journey. Our 'Flower Power' Mondays, for instance, allow our customers to enjoy significant savings on our Curio Exclusive and 'Everyday' flowers. It's a great way to explore our selection and find your favorite strain.
Beyond discounts, we also offer our customers unique experiences through our 'Fresh Picks' program. Every week, we showcase curated selections from our Wellness Gardens, giving our customers the opportunity to discover new products and strains.
The Far & Dotter app adds another layer of convenience to your cannabis journey. With the app, you can easily browse our selection, get personalized recommendations, and gain access to exclusive promotions, making your shopping experience smoother and more enjoyable.
But the experience at Far & Dotter extends beyond our products. We regularly hold educational events to help our customers navigate the world of cannabis and make informed decisions. And let's not forget our holistic health services, which complement recreational cannabis use for a comprehensive wellness experience.
Stay Informed: Legal Aspects of Recreational Cannabis in Maryland
In Maryland, while medical marijuana is legal, recreational marijuana is still illegal as of my last update in 2021. That means without a medical marijuana card, you can't just walk into a dispensary like Far & Dotter and purchase cannabis. If you're interested in using cannabis for medical purposes, obtaining a medical marijuana card is a critical step.
The process involves getting a certification from a registered provider. At Far & Dotter, we can help guide you through this process. Our team members are knowledgeable about the requirements and can provide resources to help you find a registered provider for your certification. We are committed to helping our customers stay on the right side of the law and enjoy the benefits of cannabis worry-free.
Moreover, we strongly advocate for responsible and legal usage. We stress the importance of not operating any vehicles under the influence of cannabis, understanding how cannabis can interact with other substances and medications, and being aware of the legal possession limit. Remember, responsible usage is not just about personal safety; it's also about community wellbeing.
Contribute: How to Become a Franchise Owner
Becoming a Far & Dotter franchise owner comes with the responsibility of maintaining our high standards of quality, wellness, and community. We believe in fostering a culture of acceptance, learning, and growth. As a franchise owner, you will be a key player in cultivating this culture in your own community.
Running a Far & Dotter franchise can be a fulfilling journey, combining entrepreneurship with a mission to promote wellness and understanding of cannabis. It's not just about selling cannabis products. It's about providing education, offering holistic health services, and creating a community.
We provide our franchisees with comprehensive support, from assisting with location selection and layout design to providing training and operational guidance. At Far & Dotter, you are not alone in your entrepreneurial journey. You're part of a team, a family, committed to the advancement of cannabis and holistic wellness.
Maximize Your Experience: The Far & Dotter Mobile App
One of the exciting aspects of Far & Dotter is our innovative mobile app. With this app, we aim to make your experience with us even more convenient and personalized. It puts our entire inventory, from cannabis products to wellness services, right at your fingertips.
But it's more than just a digital storefront. The app comes with features designed to enhance your cannabis journey. For instance, it provides personalized recommendations based on your past purchases and preferences, ensuring that you discover new products tailored to your taste and needs.
Moreover, the app is a hub for our exclusive promotions and events. You can stay up to date with what's happening at Far & Dotter, from new product arrivals to wellness workshops and special discounts. With the Far & Dotter app, your cannabis journey is always just a tap away.
Get the Best Maryland Recreational Cannabis Here
The world of recreational cannabis is an exciting one, full of opportunities for enjoyment, wellness, and community. At Far & Dotter, we're proud to be a part of this journey, offering not just quality products but also a holistic and enriching experience for our customers.
We invite you to visit us and discover the Far & Dotter difference for yourself. Whether you're curious about cannabis or an experienced user, you'll find a welcoming community and an unrivaled selection at our dispensary. We look forward to being a part of your recreational cannabis journey.
Far & Dotter
+1 443-484-8600
2060A York Road
Timonium MD 21093 US